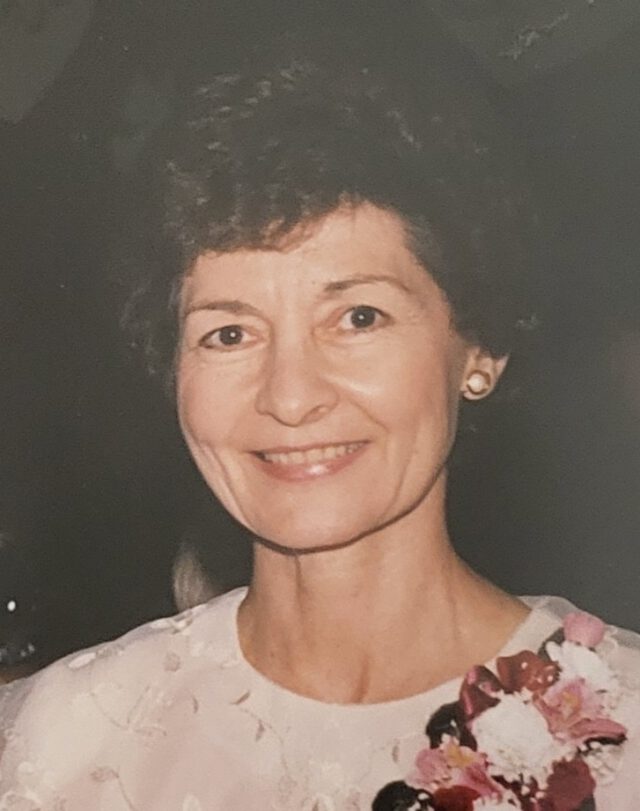 services
July 5

| Visitation
Wednesday 2:00 to 8:00 PM at Gehret Funeral Home in Fort Loramie
July 5

| Visitation
Thursday 9:00 to 10:00 AM at Sacred Heart Church Gathering Room in Mc Cartyville
July 6

| Memorial Service
Thursday 10:30 AM Mass of Christian Burial at Sacred Heart Church in Mc Cartyville
obituary
Ruth E. Richard
September 14, 1930 - June 29, 2023
Ruth Elizabeth (Luthman) Richard,
Age 92, of Fort Loramie-Swanders Road, Sidney, Ohio, passed away peacefully of natural causes surrounded by family at her residence on Thursday evening, June 29, 2023. She was born September 14, 1930, in St. Patrick, Ohio, to the late Wilbert & Viola (Gariety) Luthman. On August 2, 1952, at St. Partick Catholic Church in St. Patrick, Ruth married Paul E. Richard who preceded her in death on March 13, 2010. Surviving are 11 of 12 children (& spouses): Donald Richard of Indian Lake, Susan & Gary Schulze of Russia, Jeanne Inman of McCartyville, Edward & Cathy Richard of Minster, Sharon & James (dec.) Butz of Piqua, William Richard of Troy, Gary Richard (dec.), David & Sonja Richard of Anna, Michael & Christina Richard of McCartyville, Thomas & Traci Richard of Minster, Jack Richard of McCartyville and Patricia & Travis Lawson of Sidney; 38 grandchildren, 67 great-grandchildren and 3 great-great-grandchildren; five siblings (& spouses): Rita Fleckenstein of Fort Loramie, Bill & Joyce Luthman of Russia, Norma Barhorst of Fort Loramie, Carol & Ray Homan Anna and Larry Luthman of McCartyville as well as sisters & brothers-in-law: Nancy Luthman of Russia, Theresa Arkenberg of Fort Loramie and Eugene & Dorothy Richard of Versailles along with numerous nieces and nephews.
She was preceded in death by one grandson, Blake Richard; six siblings (& spouses): Irene Luthman, Eileen & Fred Drees, Ken Luthman, Mary Jane & Wilbert Sturwald, Bob and Alvin Luthman; brothers & sisters-in-law: Herb Fleckenstein, Lionel Barhorst, Marie & Gene Farrer, Floyd & Toni Richard, Wilma Richard, Cletus & Evelyn Richard, Rita & Ray Fullenkamp, Francis Richard, Leroy & Dorothy Richard, Mary & Pete Ecabert, Robert & Wilma Richard, Florence & Robert Bruns, Ben Arkenberg, and Rosemary & Tom Cordonnier.
Ruth was a 1948 graduate of Fort Loramie High School. She had been an active member of Sacred Heart of Jesus Catholic Church, the Alter Rosary Sodality and Shelby County Right to Life. She was also a dedicated homemaker. She enjoyed reading, poetry, and especially interacting with her family.
Mass of Christian Burial will be celebrated 10:30 AM, Thursday, July 6, 2023, at Sacred Heart of Jesus Church in McCartyville with Stephen Mondiek presiding. Interment will follow at the church cemetery. Family and friends may call Wednesday 2:00 to 8:00 PM at Gehret Funeral Home in Fort Loramie and Thursday 9:00 to 10:00 AM in the church gathering room. Memorials may be made to Shelby County Right to Life or Memorial Masses. Private condolences may be expressed at www.gehretfuneralhome.com.
condolence
send private condolence