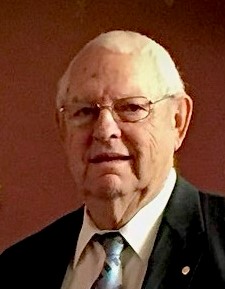 services
December 21

| Visitation
Monday 3:00 to 7:00 PM at Gehret Funeral Home in Fort Loramie
December 21

| Visitation
Private Family Visitation Tuesday 9:00 to 10:00 AM at Gehret Funeral Home
December 22

| Memorial Service
Mass of Christian Burial Tuesday 10:30 AM at St. Nicholas Church in Osgood
obituary
Robert L. Poeppelman
July 22, 1939 - December 16, 2020
Robert "Bob" Louis Poeppelman,
Age 81, of E. Washington Street, Osgood, passed away of natural causes Wednesday afternoon, December 16, 2020, at Wilson Health Hospital in Sidney, Ohio. He was born July 22, 1939, in Fort Loramie, Ohio, to the late Herman & Pauline (Albers) Poeppelman. On May 11, 1963, at St. Nicholas Catholic Church in Osgood, Bob married Elizabeth Ann "Betty" (DeMange) Poeppelman who survives. Also surviving are five children: Daniel Poeppelman & Marshall McPeek of Columbus, Douglas & Angela Poeppelman of Versailles, Denise & Gary Heitkamp of Versailles, Dale & Karen Poeppelman of Maria Stein and Darrin & Kim Poeppelman of Maria Stein; 16 grandchildren; four great-grandchildren (and one on the way); seven siblings: Marilyn & Cyril Hoelscher of Fort Loramie, Lavern & Mary Jo Poeppelman of Fort Loramie, Doris & LeRoy Kramer of Fort Loramie, Janet & Norman Barhorst of Fort Loramie, Mildred Eilerman of Fort Loramie, Bernard & Judy Poeppelman of Fort Loramie and Paul & Dott Poeppelman of Russia; brothers & sisters-in-law: Ted Barhorst of Fort Loramie, Carl & Diana DeMange of Versailles, Nancy & Harold Niekamp of Minster, Marjorie & Paul Bruey of Yorkshire, Joan DeMange of Versailles, Edward & Susan DeMange of North Star, Marilyn & Jerry Bensman of Versailles, Ernie & Diane DeMange of Yorkshire, Leroy & Ann DeMange of Yorkshire, Roger & Kris DeMange of St. Henry, Richard & Marge DeMange of Osgood, Elaine & Ron Marshall of Versailles, Theresa & Bob Hemmelgarn of North Star and Ken & Angie DeMange of Versailles along with numerous nieces and nephews. He was preceded in death by one son, Darrell Lee Poeppelman; three grandchildren; two sisters, Thelma Poeppelman, Anita Barhorst and a brother-in-law, Richard Eilerman.
Mr. Poeppelman was a 1957 graduate of Fort Loramie High School. He then served in the US Army Reserves from 1958 to 1964. Bob retired from the Celina UPS hub where he had been a truck driver for 30 years without an accident. He also worked with Arling & Evers Auctioneers for 25 years. Bob was a member of St. Nicholas Catholic Church and the St. Nicholas Men's Society. He was also a past church groundskeeper. Bob belonged to the Minster Fraternal Order of Eagles and was a 50 Year and Uniform Rank Member of St. Michael's Knights of St. John. In his leisure, Bob enjoyed playing cards at E&R's, fishing, league bowling, golf and horse shoe.
Mass of Christian Burial will be celebrated 10:30 AM, Tuesday, December 22, 2020, at St. Nicholas Catholic Church in Osgood with Rev. David Howard presiding. Interment will follow at St. Martin's Cemetery. Friends may call Monday 3:00 to 7:00 PM Gehret Funeral Home in Fort Loramie. Due to recent local outbreaks of COVID-19, use of face masks and social distancing will be critically necessary at all funeral rites. Memorials may be made to Osgood Life Squad. Private condolences may be expressed at www.gehretfuneralhome.com.
condolence
send private condolence