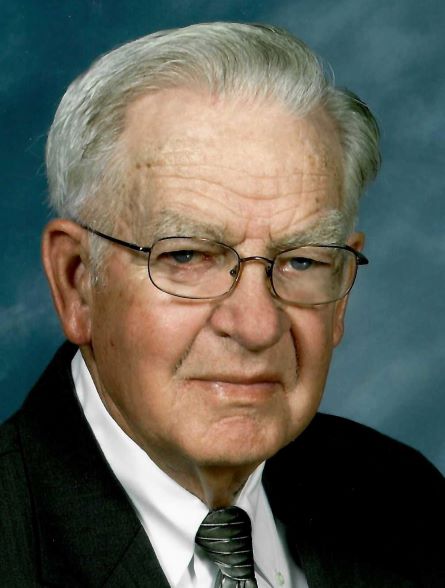 services
March 20

| Visitation
Sunday 3:00 to 7:00 PM at Gehret Funeral Home
March 20

| Visitation
Monday 9:00 to 10:00 AM at Gehret Funeral Home
March 21

| Memorial Service
Monday 10:30 AM Mass of Christian Burial at St. Michael Church in Fort Loramie
obituary
Paul L. Poeppelman
January 22, 1930 - March 15, 2022
Paul Lewis Poeppelman,
Age 92, of Mason Road, Fort Loramie, passed away of natural causes early Tuesday morning, March 15, 2022, at Elmwood Assisted Living in New Bremen, Ohio. He was born January 22, 1930, in Osgood, Ohio, to the late John & Elizabeth (Bornhorst) Poeppelman. On April 4, 1956, at St. Michael Catholic Church in Fort Loramie, Paul married Elsie (Sanders) Poeppelman who preceded him in death on December 6, 1999. Also surviving are two of three sons, Michael (dec.) & Kathy Poeppelman of Fort Loramie, Mark Poeppelman of Fort Loramie & special friend, Ruth Wynk and Daniel & Diane Poeppelman of Anna; eight grandchildren: Chad Poeppelman, Jill & Michael Knippen, Jessica & Mark Wenning, Gwen & Aaron Morris, Melissa & Scott Ratermann, Beth & Jared Horstman, Laura Poeppelman, Nathan Poeppelman & fiancé Chrissy Runner; five great-grandchildren: Ronald and Faith Knippen, Noah and Molly Wenning and Elise Morris; one brother, Thomas & Mary Ann Poeppelman of St. Henry as well as brothers & sisters-in-law: Alfred Borchers of Dayton, Joan Poeppelman of Yorkshire, Marjorie Heitkamp of Sidney, Carol Laub of Versailles and Judy Dirksen of Cassella along with numerous nieces and nephews and a special friend, Mary Studer of Coldwater.
He was preceded in death by six siblings: Lawrence & Sadie Poeppelman, Alphonse Poeppelman, Martin & Judy Poeppelman, Adele & Alfred Hoying, Sally Borchers and John Poeppelman as well as sisters & brothers-in-law: Mildred Borchers, Delores Poeppelman, Wilbert Heitkamp and Dennis Dirksen.
Mr. Poeppelman was engaged in dairy farming most of his working life. Years ago, he had also worked for Larger Brothers Transport and Spring Creek Corp. He was a member of St. Michael Catholic Church and a 50-year member of St. Michael Knights of St. John. Paul enjoyed attending farm and equipment auctions. He also enjoyed polka music and dancing. Paul's family would like to extend a special "Thank-You" for the caring staff at Elmwood Assisted Living.
Mass of Christian Burial will be celebrated 10:30 AM, Monday, March 21, 2022, at St. Michael Church in Fort Loramie with Rev. Steven Shoup presiding. Interment will follow at St. Michael Cemetery. Friends may call Sunday 3:00 to 7:00 PM and Monday 9:00 to 10:00 AM at Gehret Funeral Home in Fort Loramie. Memorials may be made to the Fort Loramie Rescue Squad or charities of choice. Private condolences may be expressed at www.gehretfuneralhome.com.
condolence
send private condolence