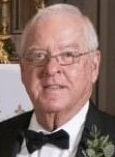 services
September 17

| Visitation
Saturday 9:00 to 10:00 AM at Gehret Funeral Home
| Memorial Service
Saturday 10:30 AM Memorial Mass at St. Michael Church in Fort Loramie
obituary
Paul G. Olberding
February 22, 1941 - August 21, 2022
Paul "Obie" George Olberding,
Age 81, of Eastview Drive, Fort Loramie, passed away peacefully of natural causes Sunday evening, August 21, 2022, at Hospice of Miami County in Troy, Ohio. He was born February 22, 1941, in Minster, Ohio, to the late Herman & Verona (Brandewie) Olberding. Surviving are four sons: Jeff Olberding of Fort Loramie, Craig & Beth Olberding of Fort Loramie, Chris & Donna Olberding of Fort Loramie, Brad & Kathy Olberding of Troy and their mother, Sandy Olberding of Fort Loramie along with eight grandchildren: Tara & Jacob Maurer, Janel & Mark Frilling, Grant, Gabriel and Gloria Olberding, Paige and Alexis Olberding and Brooke & Kyle Slife as well as two great-grandchildren, Micah and Mia Frilling; three brothers, Ron & Jean Olberding of Minster, Edmund Olberding of Fort Loramie, Herman & Jeannette Olberding of Minster and two sisters-in-law, Martha and Rita Olberding of Minster along with numerous nieces and nephews. He was preceded in death by six siblings: Walter "Doc", Melvin, Henry and Robert Olberding, Laura & Donald Wendeln and Mary & Phil Brown.
Mr. Olberding was a 1959 graduate of Minster High School. In 2000, he retired from the Minster Machine Company where he had been employed 40 years. Obie had also been a DJ for 50 years. He especially enjoyed German Music and was often featured at local German Heritage festivals. He also enjoyed golf and following local sports. Years ago, Obie had been an avid softball player and played several years in the Brucken's "Over 40" league.
A memorial Mass of Christian Burial will be celebrated 10:30 AM, Saturday, September 17, 2022, at St. Michael Church in Fort Loramie with Rev. Jarred Kohn presiding. Interment of cremains will follow at St. Michael Cemetery. Family and friends may call Saturday September 17th, 9:00 to 10:00 AM at Gehret Funeral Home in Fort Loramie. Memorials may be made to Hospice of Miami County or charities of choice. Private condolences may be expressed at www.gehretfuneralhome.com.
condolence
send private condolence