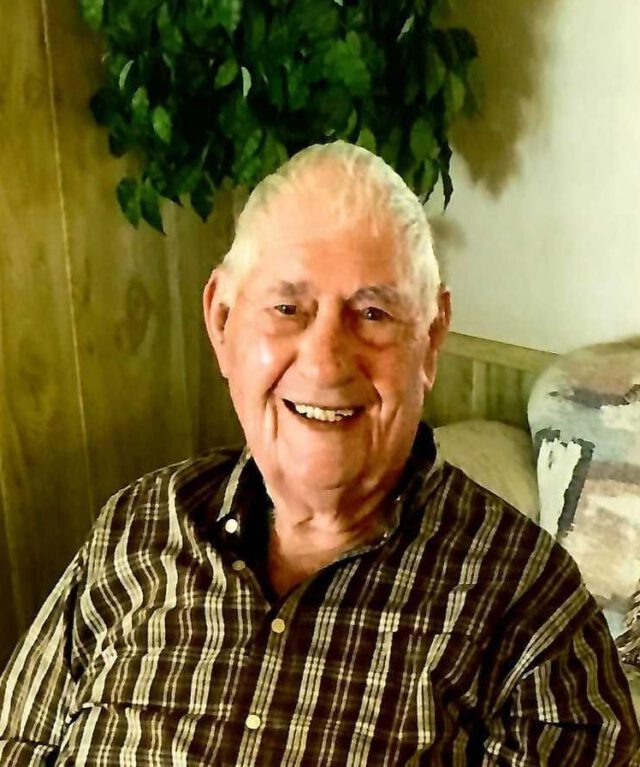 services
November 15

| Visitation
Wednesday 2:00 to 7:00 PM at Gehret Funeral Home
November 15

| Visitation
Thursday 9:45 AM to 10:15 AM at the Sacred Heart Church Gathering Room in McCartyville
November 16

| Memorial Service
Thursday 10:30 AM Memorial Mass of Christian Burial at Sacred Heart Church in McCartyville
obituary
Melvin F. Schmitmeyer
February 1, 1930 - October 30, 2023
Melvin Frank Schmitmeyer,
Age 93, of Lake Alfred, Florida and formerly of Anna, Ohio, passed away peacefully of natural causes Monday morning, October 30, 2023, at the Life Care Center of Winter Haven Florida. He was born February 1, 1930, in McCartyville, Ohio, to the late Edward & Justina (Meyer) Schmitmeyer. On July 1, 1961, at Holy Angels Catholic Church in Sidney, Mel married Janet (Williams) Schmitmeyer, his beloved wife of 62 years, who survives.
Mel & Jan had four daughters: Karen & Mark Francis of Centerville, OH, Kathy & Scott Elson of Greenville, OH, Karla & Neil (dec.) Wiedeman of New Bremen, OH, and Kelly & Brian Aufderhaar of Anna, OH, along with 15 grandchildren: Megan, Katelyn and Rachel Francis, Kyle & Emily Hunt, Jake Syilagyi, Michael Bessette, Brianna and Zach Wiedeman, Hannah & Cody Williams, Emily, Sophia and Noah Aufderhaar, Lindsay & Dan Ryder, Scotty and Curtis Elson and seven great-grandchildren: Meredith and Harrison Hunt, Gracie Williams, Dean Cornelius, Ellie Ryder, Ash and Violet Elson. Also surviving is one very special niece, and God Daughter, Sue & Dan Wehrman of Minster. He was preceded in death by a sister & brother-in-law, Verdella & Aloys Giere and father & mother-in-law, Oscar & Dorothy (Moore) Williams.
Mel was proud of being a 1948 graduate of Anna High School. He had been employed by Grilliot Implement in McCartyville, a John Deere dealer, as a mechanic for over 30 years. He also farmed 100 acres. After the dealership closed, he worked few years at Holtkamp's in Kettlersville. He then opened up his own shop at his residence. There he continued his mechanical work and used his vast knowledge of John Deere tractors to help repair them for many of the area farmers. Mel attended St. Ann's Catholic Church in Haines City, Florida and had previously been a long-time member of Sacred Heart of Jesus Church as well as the McCartyville Knights of Columbus.
Mel loved to watch Anna High School sports. He also enjoyed fishing, hunting and getting together regularly with his friends. When Mel and Jan moved permanently to Florida in 2000, he continued to use his mechanical skills, working on bicycles, and anything with a motor, to help his friends and neighbors. He enjoyed playing solitaire and riding his three-wheel bike or his scooter around the retirement community, talking with everyone he saw. Most of all, Mel absolutely loved having his family and friends come to Florida to visit and stay with him and Jan.
A Memorial Mass of Christian Burial will be celebrated 10:30 AM, Thursday, November 16, 2023, at Sacred Heart of Jesus Church in McCartyville with Rev. Andrew Reckers presiding. Interment of cremains will follow at the church cemetery. Family and friends may call Wednesday 2:00 to 7:00 PM at Gehret Funeral Home in Fort Loramie and Thursday 9:45 to 10:15 AM in the church gathering room. Memorials may be made to Anna Rocket Athletic Boosters. Private condolences may be expressed at www.gehretfuneralhome.com.
condolence
send private condolence