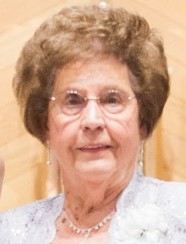 services
February 17

| Visitation
Thursday 3:00 to 7:00 PM at Gehret Funeral Home
February 17

| Visitation
Friday 9:00 to 10:00 AM at Gehret Funeral Home
February 18

| Memorial Service
Friday 10:30 AM Mass of Christian Burial at St. Michael Church in Fort Loramie
obituary
Marlene M. Rethman
April 11, 1935 - February 12, 2022
Marlene May (Pleiman) Rethman,
Age 86, of Oakwood Drive, Fort Loramie, passed away of natural causes late Saturday morning, February 12, 2022, at the Versailles Rehab & Health Care Center in Versailles, Ohio. She was born April 11, 1935, in St. Patrick, Ohio, to the late Frank & Genevieve (Couchot) Pleiman. On June 23, 1956, at St. Patrick Church in St. Patrick, Marlene married Elmer J. Rethman who preceded her in death on August 26, 2015. Surviving are four children: Mike "Delmer" & Nancy (dec.) Rethman of Fort Loramie, Tom & Linda Rethman of Versailles, Steve & Jacqui Rethman of Fort Loramie and Kathy & Mark Barhorst of Fort Loramie; 12 grandchildren: Wesley & Casey Rethman, Kacie Rethman, Kayla & Ryan Smeltzer, Morgan & Max Pulfer, Ryan & Lindsay Rethman, Brandon & Jen Rethman, Chelsey & Tanner Lephart, Chad & Danielle Rethman, Brittany & Chad Siegrist, Brooke & Lance Wilson, Jack & Trishanda Barhorst, and Keith & Essence Barhorst along with 24 of 25 great-grandchildren; three siblings: Jeanette Barhorst of New Bremen, Phyllis Hilgefort of Fort Loramie and Karen Gaier of St. Marys as well as brothers & sisters-in-law: Ralph Rethman of Versailles, Mark Rethman of Versailles and Mary & Paul Albers of Osgood; numerous nieces and nephews and a special friend Ralph Gaier of Fort Loramie. She was preceded in death sister, Betty & Clifford Luedeke and brother Carl & Julia Pleiman as well as several brothers & sisters-in-law: Alphonso Barhorst, Louis Hilgefort, Ralph Gaier, Walter & Esther Rethman and Marleise Rethman.
Mrs. Rethman had been retired from Minster Automotive. After retiring, she worked part-time at Ernst BP in Fort Loramie. Years ago, when her children were young, she was a dedicated homemaker. She was a member of St. Michael Catholic Church, St. Ann's Ladies Sodality and a past member of the Fort Loramie American Legion Auxiliary, the Minster Eagles Auxiliary and Fort Loramie Racing Club. In her leisure, Marlene enjoyed fishing and bike riding around town and at the lake.
Mass of Christian Burial will be celebrated 10:30 AM, Friday, February 18, 2022, at St. Michael Church in Fort Loramie with Rev. Steven Shoup presiding. Interment will follow at St. Michael Cemetery. Friends may call Thursday 3:00 to 7:00 PM and Friday 9:00 to 10:00 AM at Gehret Funeral Home in Fort Loramie. In lieu of flowers & gifts, memorials may be made to the Fort Loramie Rescue Squad or Fort Loramie Fire Department. Private condolences may be expressed at www.gehretfuneralhome.com
condolence
send private condolence