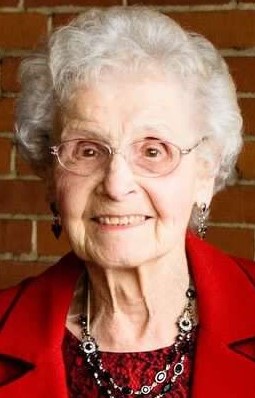 services
February 15

| Visitation
Private Family Visitation Tuesday 8:30 to 9:30 AM at Gehret Funeral Home
| Memorial Service
Tuesday 10:00 AM Memorial Mass of Christian Burial at St. Augustine Church in Minster
obituary
Lucille A. Schoch
April 23, 1925 - February 8, 2022
Lucille A. (Boehmer) Schoch,
Age 96, formerly of Garfield Street in Minster, passed away of natural causes Tuesday evening, February 8, 2022, at the Otterbein Senior Lifestyle Community in St. Marys, Ohio. She was born April 23, 1925, in St. Henry, Ohio, to the late Anthony & Christine (Naseman) Boehmer. On June 11, 1946, at Holy Rosary Catholic Church in St. Marys, Lucille married Roger R. Schoch who preceded her in death on November 3, 2000. Surviving are three children, Daniel & Terry Schoch of Minster, Janice & Patrick McGowan of Fort Loramie and Judith & John Paietta of Beavercreek; son-in-law, Michael & Barb Geron of Circleville; 11 grandchildren and 19 great-grandchildren; two siblings, James & Martha Boehmer of St. Marys and Joanne Katterheinrich of Sylvania; sisters & brothers-in-law: Mildred Schoch of Florida, Marilyn Kanney of Coldwater and George Fisher of Celina along with numerous nieces and nephews. She was preceded in death by one daughter, Carol Geron; five siblings: Herman & Alice Boehmer, Dorothy & Elmer Fink, Virginia & Harold Kleinhenz, Walter & Beatrice Boehmer, Jeanette & Paul Borges; sisters & brothers-in-law: Chris Boehmer, Louis Schoch, Rita Noll, Geraldine & Ray Sinninger, Vincent Kanney, and Jeanette Fisher.
Lucille was a 1943 graduate of St. Marys High School. She retired from the Joint Township District Memorial Hospital in St. Marys where she had been a receptionist for many years. She was a member of St. Augustine Catholic Church and the New Bremen Senior Citizens. Lucille was an avid reader and quilter. She also enjoyed crocheting, playing cards and travels with her late husband Roger.
A Memorial Mass of Christian Burial will be celebrated 10:00 AM, Tuesday, February 15, 2022, at St. Augustine Church in Minster with Rev. David Hoying presiding. Interment will follow at St. Augustine Cemetery. Memorials may be made to the Lake Loramie Improvement Association or Minster Area Life Squad. Private condolences may be expressed at www.gehretfuneralhome.com.
condolence
send private condolence