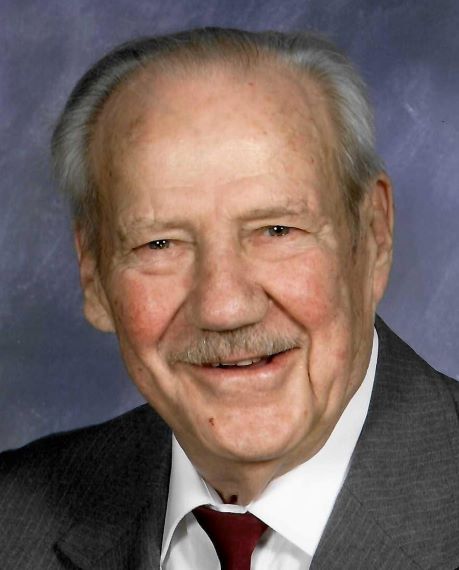 services
March 30

| Visitation
Wednesday 3:00 to 7:00 PM at Gehret Funeral Home
March 30

| Visitation
Thursday 9:00 to 10:00 AM at Gehret Funeral Home
March 31

| Memorial Service
Thursday 10:30 AM Mass of Christian Burial at St. Michael Church in Fort Loramie
obituary
John D. Kremer
April 17, 1924 - March 25, 2022
KREMER, John D.
(97), died 3/25/22. John, also known among the community as "Coach", was born April 17, 1924, in Fort Loramie, Ohio, to Edward & Mary (Boerger) Kremer. He was raised in Dayton, Ohio, and graduated from Randolph High School in 1942. At Randolph he participated for four years in basketball and baseball earning awards. During World War II he served with the U.S. Army Medical Corps and from 1943 – 1945 was a T4 Sergeant stationed with the 148th General Hospital on Saipan in the Mariana Islands. After the war he graduated from the University of Dayton in 1949.
He married Marcella Coffits in 1949. She passed away on July 27, 1998, during their 49th year of marriage. Marcella lovingly nurtured her family while John worked many long hours. Surviving are their three sons; Kurt (Sue) Kremer, Chuck (Deborah) Kremer, and William (Diane) Kremer. Surviving grandchildren are David Kremer & Jill (Eric) Fleckenstein, Jacob (Jennifer) Kremer, Joe (Margaret) Kremer, and Tom Kremer; five great grandchildren Alexis Fleckenstein & Taran Fleckenstein, Isaac Kremer & Owen Kremer, and Benjamin Kremer, three step grandchildren; Brad, Jessica, and Nicole Baker and several great step grandchildren. Surviving are sister Kathleen and sister-in-law Doris Kremer. He was predeceased by two brothers, Robert Kremer and Carl Kremer. He also was predeceased by sister-in-law Betty Biser, brother-in-law Roy Biser, brother-in-law Peter Pappas, and beloved friend Norma Schlater.
He was employed for 31 years at Fort Loramie High School as a teacher, coach, athletic director, and bus driver. He coached varsity basketball for 26 years and varsity baseball for 12 years at Fort Loramie High School. Early in his career he coached all the sports at Fort Loramie including junior high basketball and junior varsity basketball. Coach Kremer established a winning tradition in basketball. He continued the winning tradition in baseball. His teams in both basketball and baseball produced many championships. He served as athletic director for 27 years. During summer months, he worked as a carpenter for various companies and as a driver's education teacher.
Before entering the U.S. Army in 1942, he worked in a tank manufacturing plant. During his college years he worked for the US Postal service, New Idea Tool Company, and Inland Manufacturing Company. After retirement he worked as a substitute teacher at numerous schools and as grounds keeper for St. Michael's Cemetery.
He was a member of St. Michael's Church, Fort Loramie, where he served on the church council. He was a member of the Shelby County Teachers Education Association serving as its President for a term. John was also a member of the American Legion and Eagles. He was awarded with numerous honors including Coach of the Year and Grand Marshall for the Fort Loramie – July 4th Parade. For his contributions to education, he was given honors as a top educator and also named in the inaugural group of three individuals honored on the Fort Loramie School's Wall of Honor.
The Kremer family would like to express their gratitude for the excellent care provided by the staffs of Elmwood Assisted Living and Grand Lake Hospice.
Mass of Christian Burial will be celebrated 10:30 AM, Thursday, March 31, 2022, at St. Michael Church in Fort Loramie with Rev. Steven Shoup and Deacon Paul Timmerman presiding. Interment with full military honors will follow at St. Michael's Cemetery. Friends may call Wednesday 3:00 to 7:00 PM and Thursday 9:00 to 10:00 AM at Gehret Funeral Home in Fort Loramie. Memorials may be made to the Alzheimer's Association or the Fort Loramie Education Foundation. Private condolences may be expressed at www.gehretfuneralhome.com.
condolence
send private condolence