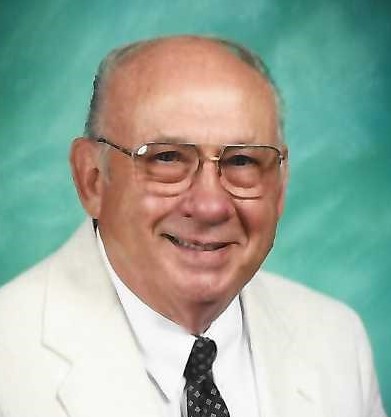 services
September 23

| Visitation
Thursady 4:00 to 7:00 PM at Gehret Funeral Home
September 23

| Visitation
Friday 9:00 to 10:00 AM at Gehret Funeral Home
September 24

| Memorial Service
Friday 10:30 AM Mass of Christian Burial at St. Michael Church in Fort Loramie
obituary
Eugene A. Rethman
March 27, 1933 - September 20, 2021
Eugene Alfred Rethman,
Age 88, formerly of Eastview Drive, Fort Loramie, passed away of natural causes Monday morning, September 20, 2021, at Elmwood Assisted Living in New Bremen, Ohio. He was born March 27, 1933, in Fort Loramie, Ohio, to the late Anthony & Elizabeth (Stucke) Rethman. On August 6, 1955, at the former St. Patrick Catholic Church in St. Patrick, Gene married Marjorie (Puthoff) Rethman who preceded him in death on November 16, 2013.
Surviving are three children, Dan & Kathy Rethman of Fort Loramie, Ann & Jeff Gilbertson of Marshfield, WI and Mary Jo & James High of Russia; five grandchildren: Brad & Lindsey Rethman of Powell, Ashley & Adrian Crawford of Bellbrook, Craig & Kat Rethman of Worthington, Anders & Robyn Gilbertson of Plover, WI and Bjorn & Claire Gilbertson of Marshfield along with eleven great-grandchildren: Quinn and Elyn Rethman, Cole, Reese and Olivia Crawford, Carden and Noah Rethman, Andrea and Alyssa Gilbertson and Daniel and Norah Gilbertson; two sisters, Janice Otting of Little Rock, MS and Carol & John Bowsher of Little Rock, MS; brothers & sisters-in-law: Don Puthoff of Fort Loramie, Bonnie & Frank Turner of Fort Loramie and Teresa Puthoff of Sidney as well as numerous nieces and nephews. He was preceded in death by three sisters, Edna & Stanley Beaver, Elsie & Carl Borchers and infant Mary Rethman as well as several brothers & sisters-in-law: Charles Otting, Francis & Freda Puthoff, Vera & Mel Woehrmyer, Mary & Alfred Holthaus, Corrine & Tom Francis, Melvin & Betty Puthoff, Barb & Lewis Thieman, Phylis Puthoff and Robert Puthoff.
A 1951 graduate of Fort Loramie High School, Gene then served two years in the US Army during the Korean War. He took part in "Operation Glory" at his post with railway security. Gene retired in 1995 from the Minster Machine Co. where he had been employed 40 years. He was a member of St. Michael Catholic Church, the Fort Loramie American Legion Post #355, Fort Loramie Racing Club and the Fort Loramie Athletic Boosters. Years ago, he served on the Village of Fort Loramie Board of Public Affairs and Village Water Board. Gene had been an avid reader. He also enjoyed following his family's sports activities, traveling and morning coffee with his friends.
Mass of Christian Burial will be celebrated 10:30 AM, Friday, September 24, 2021, at St. Michael Church in Fort Loramie with Rev. Steven Shoup presiding. Interment will follow at St. Michael Cemetery. Friends may call Thursday 4:00 to 7:00 PM and Friday 9:00 to 10:00 AM at Gehret Funeral Home in Fort Loramie. Memorials may be made to the Fort Loramie Rescue Squad or Grand Lake Hospice. Private condolences may be expressed at www.gehretfuneralhome.com. The Rethman family would like to extend their sincere appreciation to Grand Lake Hospice and the caregivers, staff and residents of Elmwood Assisted Living of New Bremen for their dad's care, support and friendship.
condolence
send private condolence