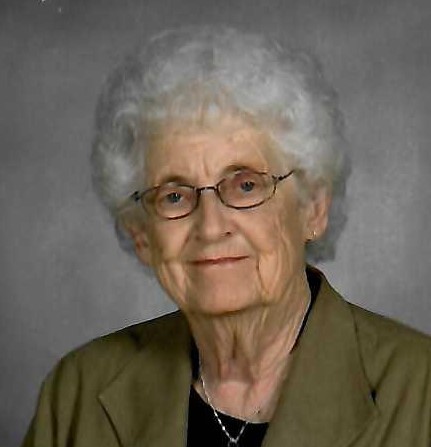 services
August 24

| Visitation
Tuesday 3:00 to 7:00 PM at Gehret Funeral Home
August 24

| Visitation
Wednesday 9:00 to 10:00 AM at Gehret Funeral Home
August 25

| Memorial Service
Wednesday 10:30 AM Mass of Christian Burial at St. Michael Church in Fort Loramie
obituary
Esther E. Schafer
July 28, 1928 - August 21, 2021
Esther Elizabeth (Barlage) Schafer,
Age 93, formerly of Mason Road, Fort Loramie, passed away of natural causes Saturday morning, August 21, 2021, at the Versailles Rehab & Health Care Center in Versailles, Ohio. She was born July 28, 1928, in Fort Loramie, Ohio, to the late John & Mary (Barhorst) Barlage. On October 16, 1947, at St. Michael Catholic Church in Fort Loramie, Esther married Joseph A. Schafer who preceded her in death on March 19, 2006. Surviving are one of two children, Carol & Tom Henke of Fort Loramie and Kenneth Schafer (dec.); two grandchildren: Joseph Henke & fiancé, Jenni Piatt and Jennifer Henke & Rick Eilerman along with one great-granddaughter, Jasi Henke, all of Fort Loramie; One brother, Carl Barlage of Russia and two sisters-in-law: Pat Barlage of Sidney and Dorothy Buehler of McCartyville along with numerous nieces and nephews. She was preceded in death by four siblings, Virgil & Mildred Barlage, Edward & Jacqueline Barlage, Donald Barlage and Mary & Ralph Sturwold; a sister-in-law, Rita Barlage as well as several brothers & sisters-in-law from Joe's family.
Mrs. Schafer was a member St. Michael Catholic Church and St. Ann's Ladies Sodality. She retired from Copeland Corp. in Sidney and previously worked at G & W in Fort Loramie. Esther was dedicated to her work whether away or at home. She took pride and pleasure in sewing, gardening and cooking for her family. She especially enjoyed baking cookies.
Mass of Christian Burial will be celebrated 10:30 AM, Wednesday, August 25, 2021, at St. Michael Church in Fort Loramie with Rev. Steven Shoup presiding. Interment will follow at St. Michael Cemetery. Friends may call Tuesday 3:00 to 7:00 PM and Wednesday 9:00 to 10:00 AM at Gehret Funeral Home in Fort Loramie. Memorials may be made to EverHeart Hospice or the Fort Loramie Rescue Squad. Private condolences may be expressed at www.gehretfuneralhome.com.
condolence
send private condolence