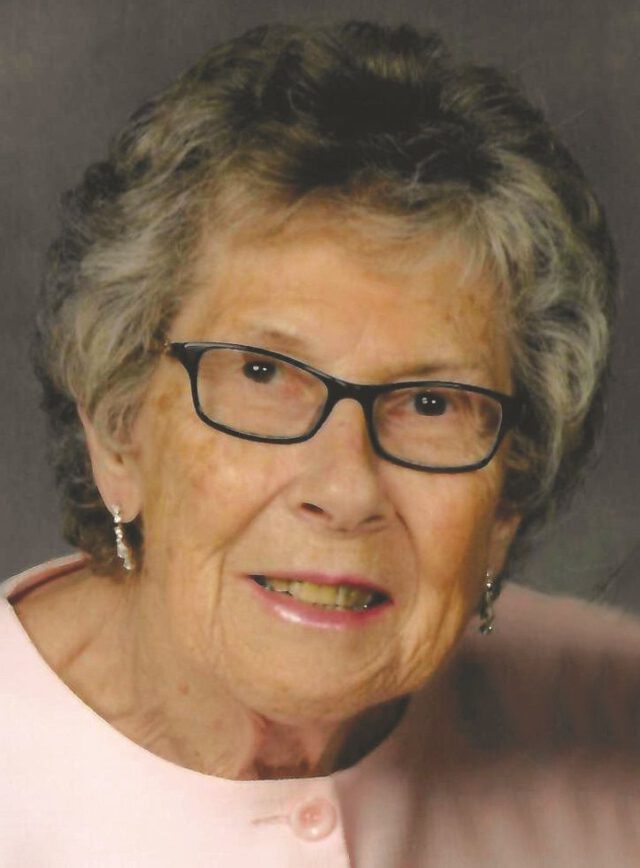 services
August 3

| Visitation
Thursday 2:00 to 8:00 PM at Gehret Funeral Home
August 3

| Visitation
Friday 9:00 to 10:00 AM at Holy Redeemer Church
August 4

| Memorial Service
Friday 10:30 AM Mass of Christian Burial at Holy Redeemer Church in New Bremen
obituary
Emma Rita Heitkamp
December 1, 1936 - July 31, 2023
Emma "Rita" (Gehret) Heitkamp,
Age 86, of Midlane Drive, New Bremen, passed away peacefully of natural causes Monday afternoon, July 31, 2023, at Elmwood Assisted Living in New Bremen, Ohio. She was born December 1, 1936, in Versailles, Ohio, to the late Joseph & Anna (Mueller) Gehret. On May 7, 1958, at St. Nicholas Catholic Church in Osgood, Rita married Dennis L. Heitkamp who survives. This spring they celebrated their 65th anniversary. Also surviving are six children: Linda & Mark Schutz of Willowdell, Karen & Steve Reineke of Piqua, John & Judy Heitkamp of New Bremen, James & Janet Heitkamp of New Bremen, Lois & Tony Meyer of Fort Loramie and Diana & Doug Kramer of New Bremen; 23 of 24 grandchildren, one grandson, Kevin Schutz is deceased; 43 great-grandchildren (2 on the way and 2 dec.) and two great-great-granddaughters; three siblings, Paul Gehret of North Star, Edward & Mary Lee Gehret of Willowdell and Mary Ann & John Kuether of Egypt; sisters & brothers-in-law: Frances Gehret of Fort Loramie, Mary Ann & Louis Grieshop of Versailles, Irene Gehret of Frenchtown, Eva Gehret of Willowdell and Madonna Gehret of Versailles along with numerous nieces and nephews.
She was preceded in death by eight siblings: Mildred & Virgil Bensman, Lawrence, Alfred & Rose, Vernon, Urban, Joseph, Anthony and Cyril & Margie Gehret as well as sisters & brothers-in-law: Bernice Gehret, Irene & Marinus Ruschau, Alvera & Herbert Schoenline, Velma & Clarence Bruns, Loyd & Mary Heitkamp, Norbert & Rose Mary Heitkamp, Alberta & David Hackemoeller, Junita & Carl Steinbrunner, and David & Thecla Heitkamp.
Rita was a dedicated homemaker and dairy farm wife. She also worked part time at Crown Equipment in Guest Services. She was a member of Holy Redeemer Catholic Church where she served on the parish council and had been active in the church choir. Rita belonged to the New Bremen Senior Citizens (past president), the Adoration Guild at the Maria Stein Retreat House (past president), the National Farmers Organization and served on the New Bremen School Board (past president).
Rita taught herself how to play the guitar and enjoyed entertaining at area nursing homes and elementary schools. She was also quite good at yodeling. Rita also enjoyed gardening, camping and traveling. Most of all she loved spending time with her family. Rita's motivations were best described in her favorite quote by Erma Bombeck, "When I stand before God, at the end of my life, I would hope that I would not have a single bit of talent left, and I could say that I used everything you gave me".
Mass of Christian Burial will be celebrated 10:30 AM, Friday, August 4, 2023, at Holy Redeemer Church in New Bremen with Rev. Mark Hoying presiding. Interment will follow at German Protestant Cemetery. Family and friends may call Thursday 2:00 to 8:00 PM at Gehret Funeral Home in Fort Loramie and Friday 9:00 to 10:00 AM at the church. Memorials may be made to Maria Stein Shrine of the Holy Relics, Grand Lake Hospice or charities of choice. Private condolences may be expressed at www.gehretfuneralhome.com.
condolence
send private condolence