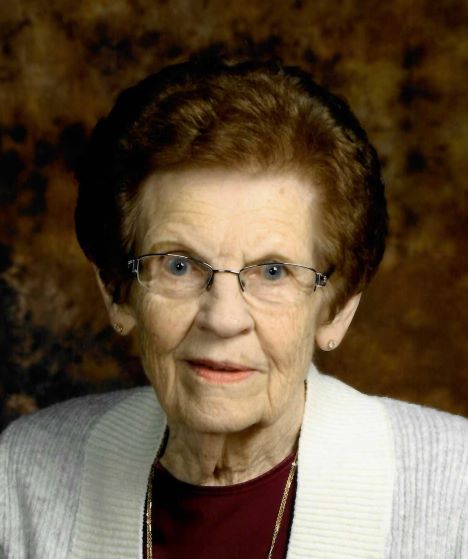 services
January 5

| Visitation
Thursday 4:00 to 7:00 PM at Gehret Funeral Home
January 5

| Visitation
Friday 9:00 to 10:00 AM at Gehret Funeral Home
January 6

| Memorial Service
Friday 10:30 AM Mass of Christian Burial at St. Michael Church in Fort Loramie
obituary
Dorothy M. Quinlin
November 28, 1933 - January 1, 2023
Dorothy Mary (Bornhorst) Quinlin,
Age 89, of Liberty Way, Fort Loramie, Ohio, passed away of natural causes Sunday evening, January 1, 2023, at the Joint Township District Memorial Hospital in St. Marys, Ohio. She was born November 28, 1933, in Minster, Ohio, to the late Joseph & Rose (Bensman) Bornhorst. On May 7, 1955, at St. Augustine Catholic Church in Minster, Dorothy married James Quinlin who preceded her in death on March 16, 2002. Surviving are three children, Douglas & Jill Quinlin of Findlay, Gregory Quinlin of Fort Loramie and Cheryl & Mark Drees of Russia; five grandchildren: Katie & Scott Rindler, Kristin & Jeff Brandon, Ryan & Jennifer Drees, Troy Quinlin and Courtney Quinlin along with seven great-grandchildren: Ava, Mia and Quinn Rindler, Jackson, Cecelia and Camille Brandon and Maddox Drees; brothers & sisters-in-law: Bill King of Cincinnati, Sheila Quinlin of Fort Loramie and Mary Katheryn & Jim Mescher of Fort Loramie as well as several nieces and nephews. She was preceded in death by two siblings, Martha & Albert Barhorst and Donald & Patricia Bornhorst along with brothers & sisters-in-law: Thomas & Donna Quinlin and Barbara King.
Dorothy was a 1951 graduate of Minster High School. She had been a member of St. Michael Catholic Church where she served as the parish secretary for 16 years until retiring in 2001. She also taught religious education (CCD) for 24 years, was a Eucharistic Minister and a prayer line volunteer. Dorothy was active in the Apostleship of Prayer and St. Ann's Rosary Alter Society. She belonged to the Fort Loramie American Legion Auxiliary (Past Presidents Parley), the Fort Loramie Historical Association and had been a volunteer for the Wilson Health Hospital Auxiliary. Dorothy enjoyed watching sports, knitting, playing cards and most of all spending time with her family.
Mass of Christian Burial will be celebrated 10:30 AM, Friday, January 6, 2023, at St. Michael Church in Fort Loramie with Rev. Jarred Kohn presiding. Interment will follow at St. Michael Cemetery. Family and friends may call Thursday 4:00 to 7:00 PM and Friday 9:00 to 10:00 AM at Gehret Funeral Home in Fort Loramie. Memorials may be made to the Fort Loramie Fire Department or Fort Loramie Rescue Squad. Private condolences may be expressed at www.gehretfuneralhome.com.
condolence
send private condolence