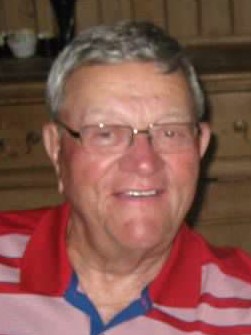 services
February 28

| Visitation
Monday 3:00 to 8:00 PM at Gehret Funeral Home
February 28

| Visitation
Tuesday 9:00 to 10:00 AM at Gehret Funeral Home
March 1

| Memorial Service
Tuesday 10:30 AM Mass of Christian Burial at St Michael Church in Fort Loramie
obituary
Donald W. Ruhenkamp
November 11, 1933 - February 24, 2022
Donald Walter Ruhenkamp,
Passed away of natural causes on Thursday, February 24, 2022, in Fort Loramie, Ohio, at the place he called home his entire life. He was 88 years old. Don was born November 11, 1933, in Fort Loramie, Ohio, to the late Clem & Josephine (Winner) Ruhenkamp. He married his wife Patricia (Sanders) Ruhenkamp on June 28, 1958, at St. Michael Catholic Church in Fort Loramie. Together, they had eight children: the late Carl "Chuck" Ruhenkamp, Anne & Phil Barhorst, Dave & Lisa Ruhenkamp, Jeff & Dianne Ruhenkamp, Kaye & George Sholtis, Greg & Jenny Ruhenkamp, Donna & Chris "Otis" Olberding and Gayle & Brian Westerheide, all of Fort Loramie. Don was also proud to have 24 grandchildren, five great-grandchildren as well as one on the way. He is also survived by one sister, Maxine & Robert Cooper of Centerville; brothers & sisters-in-law, Robert & Marlene Sanders of Hudson and Jeanne & Dan Mescher of Osgood along with numerous nieces & nephews. Don was preceded in death by his parents and oldest son as well as a brother-in-law, Carl Sanders and father & mother-in-law, Henry & Emma Sanders.
Don attended Fort Loramie Schools and began working for his father's farm drainage business at just 13 years old. He eventually owned and operated Ruhenkamp Farm Drainage for the majority of his life. He was well known as a tireless and efficient worker, values he passed down to each of his children.
On March 3, 1952, Don joined the Fort Loramie Fire Department where he served as assistant fire chief for 13 years. After his last fire run in 1983, Don continued to serve the department by running the kitchen crew until recent years. He was very passionate about servant leadership and was awarded a Lifetime Service Award by the department after almost 70 years of service.
Don continued to serve the community he loved by leading the inaugural Fort Loramie Football Grounds Crew, giving countless hours tending to the football field and program. Don was an avid golfer and enjoyed his time working at Arrowhead Golf Course as a starter. He was a dedicated member of the Fort Loramie Booster Club and GYM Committee. One of his greatest passions in life was being a devout Fort Loramie Redskins, Cincinnati Bengals, and Cincinnati Reds fan.
As a young adult, Don and Pat founded White Oak Lake with ten of their closest friends, creating a private property and pond where they could raise their children and celebrate life's most special moments together.
Don was an amazing cook, fisherman, meticulous painter and master gardener. He was often known to gift others with his famous garden-fresh-salsa. Above all, Don's greatest joy was entertaining his family around the kitchen table. He was a life long devout parishioner at St. Michael Catholic Church and a member of the Knights of St. John. Don was also a member of the Sons of American Legion and loved the USA.
Mass of Christian Burial will be celebrated 10:30 AM, Tuesday, March 1, 2022, at St. Michael Church in Fort Loramie with Steven Shoup presiding. Interment will follow at St. Michael Cemetery. Friends may call Monday 3:00 to 8:00 PM and Tuesday 9:00 to 10:00 AM at Gehret Funeral Home in Fort Loramie. Memorials may be made to Wilson Health Hospice. Private condolences may be expressed at www.gehretfuneralhome.com.
condolence
send private condolence