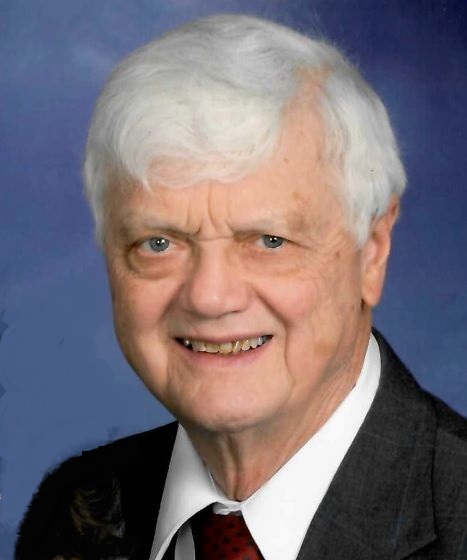 services
January 3

| Visitation
Monday 4:00 to 7:00 PM at Gehret Funeral Home
January 3

| Visitation
Tuesday 8:30 to 9:30 AM at Gehret Funeral Home
January 4

| Memorial Service
Tuesday 10:00 AM Mass of Christian Burial at St. Augustine Church in Minster
obituary
David J. Durbin
August 31, 1937 - December 30, 2021
David John Durbin,
Age 84, of N. Hanover Street, Minster (formerly of Sidney), passed away of natural causes early Thursday morning, December 30, 2021, at the Upper Valley Medical Center in Troy, Ohio. He battled a very rare form of multiple myeloma cancer for 4 years. He was born August 31, 1937, in Doylestown, Ohio, to the late, Ralph & Frances (Sapp) Durbin. On July 1, 1961, at St. Albert The Great Catholic Church in Kettering, Dave married Mary (Phillips) Durbin who survives. Also surviving are seven children: Karen & Brian Connair of Dayton, Linda & Jim Fox of Naples, FL, Robert "Bob" & Patti Durbin of Brookston, IN, Mark & Karen Durbin of Springboro, John Durbin of Troy, Marie & Matt Howe of West Chester and Ann & Dave Heckman of Minster; 29 grandchildren: Chris, Ben, Philip, Sarah, Elizabeth and Andrew Connair; John, Christina, Maria, Catherine and Serena Fox; Matthew, Emily, Timmy, Rachel, Therese and Angela Durbin; Madeline and Grace Durbin; Elisa, Mariana, Rosemarie, Annalise and Joey (dec.) Howe; Alivia, Jonathan, Claire, Hannah and Francis Heckman; five of seven siblings: Dick & Pat Durbin of Kettering, Jim, Denny, Ralph & Patti Durbin of Doylestown and Joan & Bob Gallina of Minerva; sisters & brothers-in-law: Barb (Durbin) Ehler of Springboro, Marguerite & Jim Stickel of Newport, NC, Floyd & Juanita Phillips of Goose Creek, SC, and Gayle & Ron Roberts of Highland Village, TX, as well as numerous nieces and nephews. He was preceded in death by two siblings: Anne Bush and Ruth Doyle along with brothers & sisters-in-law, Pat Doyle, Faye Durbin, Mona Durbin and Leslie Phillips.
Dave was a 1955 graduate of Doylestown High School and a 1959 graduate of the University of Dayton where he studied mechanical engineering. He worked for D.P.& L, and then in 1976, Ferguson Construction in Sidney. His most recent job was with Miami County working from home as a Plan Examiner for state approval. Dave was a member of St. Augustine Catholic Church in Minster and a past-longtime member of Holy Angels Catholic Church in Sidney.
Dave's love for the Lord, was his priority his entire life. Daily he read the bible, prayed his Rosary, and attended Mass almost without exception since 1976. He was anointed, received Holy Eucharist, and the Apostolic pardon before he died. He loved being married to Mary for 60 years and enjoyed hugs from his children when he came home for lunch. Dave delighted in each of his children, spending evenings and weekends with them, playing games, especially cards, bike riding, hiking on Sundays and camping during the summer. He also enjoyed fishing with them at Lake Loramie, hunting with friends, and playing bridge at the Senior Center in Sidney. He was full of joy when he was with his sons, daughters, their spouses and grandchildren, playing lots of German board games, euchre and pinochle cards, always laughing and having fun. Dave had a wonderful sense of humor, to keep his family lighthearted. He was an incredible husband, father, and grandfather who lived his Catholic faith to the fullest.
Mass of Christian Burial will be celebrated 10:00 AM, Tuesday, January 4, 2022, at St. Augustine Catholic Church in Minster with Rev. Nathan Cromly presiding. Interment will follow at St. Augustine Cemetery. Friends may call Monday 4:00 to 7:00 PM and Tuesday 8:30 to 9:30 AM at Gehret Funeral Home in Fort Loramie. In place of flowers, please consider donations to help Fr.Nathan Cromly's incredible ministry – the Saint John Institute. Fr. Nathan Cromly, who has been instrumental with the Mothers' Retreat ministry at Maria Stein for 20 years, could really use donations for his vibrant Young Adult and Business Leaders ministry. Please visit www.saintjohninstitute.org. Private condolences may be expressed at www.gehretfuneralhome.com.
condolence
send private condolence