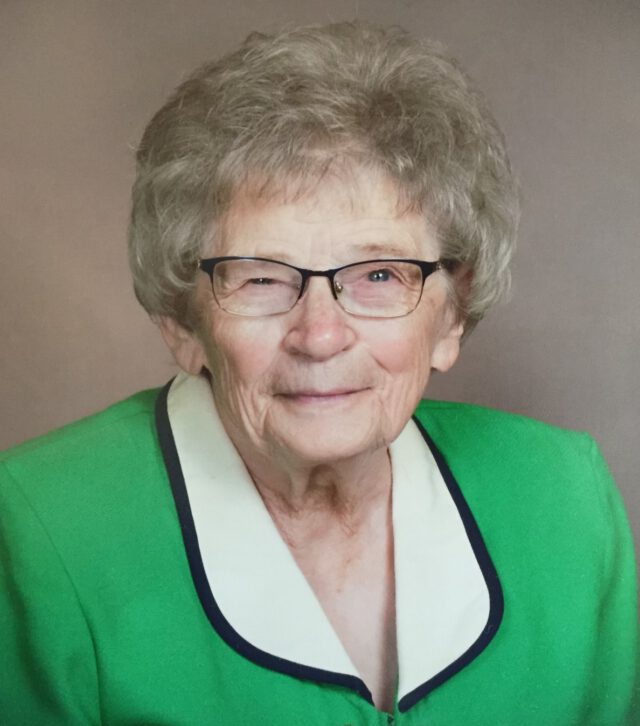 services
April 25

| Visitation
Monday 2:00 to 8:00 PM at Gehret Funeral Home
April 25

| Visitation
Tuesday 9:00 to 9:45 AM at Gehret Funeral Home
April 26

| Memorial Service
Tuesday 10:30 AM Mass of Christian Burial at St. Remy Church in Russia
obituary
Clarissa J. Barhorst
March 20, 1929 - April 19, 2022
Clarissa Josephine (Aselage) Barhorst,
Age 93, of Rangeline Road, Russia, Ohio, passed away peacefully of natural causes at her residence Tuesday morning, April 19, 2022. She was born March 20, 1929, in Fort Loramie, Ohio, to the late John & Anna (Gaier) Aselage. On May 1, 1954, at St. Michael Church in Fort Loramie, Chris married Herbert B. Barhorst who preceded her in death on April 26, 2004. Surviving are eight children: Judy & Bernie Poeppelman of Fort Loramie, Roger & Kathy Barhorst of Sidney, Ken & Mary Barhorst of Fort Loramie, Ann & Mike Birkmeyer of Granville, Rose & Jeff Schlater of Versailles, Patty & Dave Goldschmidt of Fort Loramie, Yvonne & Dan Seger of Sidney and Carolyn & Chad Gasson of Fort Loramie; 24 grandchildren, 33 great-grandchildren and 2 great-great-grandchildren; three sisters, Viola Dietz of Botkins, Esther Dietz of Botkins and Dorothy Poeppelman of Sidney as well as sisters & brothers-in-law: Doris Bruggeman of St. Henry, Joseph Barhorst of Philothea and Martha & Richard Subler of New Bremen along with numerous nieces and nephews.
She was preceded in death by an infant son, Herbert James Barhorst; seven siblings: Josephine & Ben Doseck, Marie & Norbert Francis, Agnes & Ralph Francis, Henry & Edna Aselage, Hilda & Urban Poeppelman, Ben & Betty Aselage, Paul Aselage and additional brothers & sisters-in-law: Ed Dietz, Marion Dietz, Cletus Poeppelman, Clarissa & William Brinkman, Charline & Lavern Schmit, Werner Homan, Virgil Bruggeman, Dolores & Werner Bruggeman, Wilma Barhorst, Clarence & Shirley Barhorst, Marilyn & Ralph Meyer, Emily & Jack Subler, Eloise & Ivo Braun and Margie & Ed Rethman.
Chris was a 1947 graduate of Fort Loramie High School. She had always been a dedicated homemaker and farm wife. She enjoyed helping out at Al's Place and years ago, had been a cook at Heritage Manor Nursing Center in Minster. Chris was a member of St. Remy Catholic Church where she belonged to the former Ladies Sodality and for several years had been the parish rectory housekeeper. She was also a retired Houston Rescue Squad trustee. Chris enjoyed baking pies and gardening. She also loved playing cards and nurturing all of her grandchildren.
Mass of Christian Burial will be celebrated 10:30 AM, Tuesday, April 26, 2022, at St. Remy Catholic Church in Russia with Rev. Martin Fox presiding. Interment will follow at the church cemetery. Friends may call Monday 2:00 to 8:00 PM and Tuesday 9:00 to 9:45 AM at Gehret Funeral Home in Fort Loramie. Memorials may be made to Wilson Health Hospice or EWTN. Private condolences may be expressed at www.gehretfuneralhome.com.
condolence
send private condolence