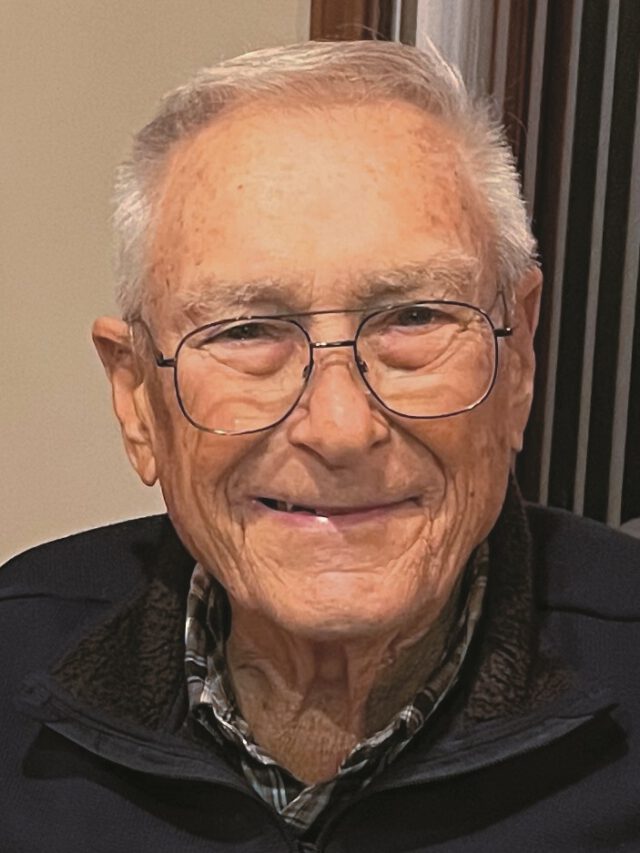 services
December 3

| Visitation
Saturday 3:00 to 7:00 PM at Gehret Funeral Home
December 3

| Visitation
Sunday 12:30 to 1:30 PM at Gehret Funeral Home
December 4

| Memorial Service
Sunday 1:30 PM at Gehret Funeral Home
obituary
Calvin C. McCorkle
December 31, 1927 - November 27, 2022
Calvin C. "Corky" McCorkle,
Age 94, passed away of natural causes on Sunday November 27, 2022 in his home near Fort Loramie, Ohio. He was born on December 31, 1927 in a log house located in "Crow's Hollow" near Fort Loramie, Ohio. He was the son of the late Cecil McCorkle and Agnes (Wright) McCorkle Nawman. Calvin was a proud and honored WWII US Army Air Corp Veteran. He married Neta Wernle of Greenville, Illinois on September 1, 1947. The couple met while Calvin was stationed at Scott Field Air Force Base near Belleville, Illinois. His wife of 69 years preceded him in death on May 4, 2016.
Those who will miss Calvin the most are his only daughter Rebecca and son-in-law Douglas Jelley of Fort Loramie. He has three grandsons, Shane & Regina Meeker of South Lebanon, with sons Calvin, Spencer and Ian; Kevin Meeker & Alison Wood of Hawthorne, California, with sons Levi and Clayton; Brian and Courtney Jelley of Cincinnati, with a daughter Eliza and a son Cyrus. He is also survived by one sister, Ellen (Carl) Harshman of St. Louis, Mo, a brother Carl (Judy) McCorkle of Fort Loramie as well as a sister-in-law Rose Wernle of Greenville, IL, and brother-in-law Jerry (Deborah) Wernle of Pinellas Park, Florida, along with several nieces and nephews.
He was preceded in death by his parents and step mother Laila (Smith) McCorkle and step father Orris Nawman; one sister, Margaret Attenweiler of Piqua; sisters-in-law: Alberta Williams Kampwerth, Kathryn (Nick) Boudouris, Cleta (Raymond) Baldwin, Evelyn (Joe) Wylie and brothers-in-law, Edwin Wernle and William (Pat) Wernle, all of or near Greenville, IL.
Calvin retired in 1985 from Copeland Corporation where he was a Journeyman machine repairman for 40 years. Earlier in 1985 he became a Cynthian Township Trustee and served his township for 17 years. Calvin saw himself as God's "caretaker" to his farm and 3-acre pond. He loved fixing things and engineering solutions for his projects! His motto was that "you should leave things better than you found them" and he certainly did. One of his greatest joys was giving advice and sharing stories with his family and friends.
Mr. McCorkle helped reactivate the Newport Sportsman's Club, was instrumental in its growth, and had been a faithful member for the remainder of his life. He was also a member of the Fort Loramie American Legion and Oran Christian Church.
Funeral Services will be held 1:30 PM, Sunday, December 4, 2022, at Gehret Funeral Home in Fort Loramie with Rev. Dale Ritts presiding. Interment will follow at Fairview Cemetery. Friends may call Saturday 3:00 to 7:00 PM and Sunday 12:30 to 1:30 PM at Gehret Funeral Home. Memorials may be made to Wilson Health Hospice or Oran Church. Private condolences may be expressed at www.gehretfuneralhome.com.
condolence
send private condolence