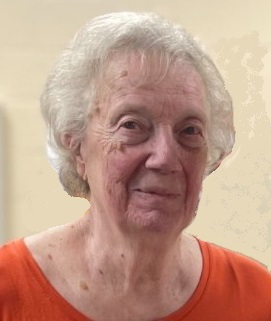 services
November 2

| Visitation
Wednesday 3:00 to 7:00 PM at Gehret Funeral Home
November 2

| Visitation
Thursday 9:00 to 10:00 AM at Gehret Funeral Home
November 3

| Memorial Service
Thursday 10:30 AM Mass of Christian Burial at St. Michael Church in Fort Loramie
obituary
Bernice C. Frey
March 23, 1943 - October 28, 2022
Bernice Catherine (Frilling) Frey,
Age 79, of Mason Road, Fort Loramie, Ohio, passed away peacefully of natural causes at her residence Friday morning, October 28, 2022. She was born March 23, 1943, in Sidney, Ohio, to the late Aloysius & Bernadine (Mertz) Frilling. On October 22, 1966, at St. Michael Catholic Church in Fort Loramie, Bernice married Joseph P. Frey who preceded her in death on September 3, 1987. Surviving are seven children: Steve & Mary Jo Frey of Newport, Gina Frey of Fort Loramie, Darla & Donald Hecht of Houston, Keith & Marty Frey of Wapakoneta, Melissa Frey of Fort Loramie, Theresa & David Poling of Houston and Daniel Frey & Aleah Moore of Fort Loramie; 14 grandchildren: Tessa Subler, Donald & Jordan, Cody, Sierra and Kendra Hecht, Austin & Colleen, Josie, Isaac, Robert, Joseph and Olivia Frey, Dalton, Kylea and Wyatt Poling along with seven great-grandchildren; five siblings: Carol & Barry Shatto of Sidney, Janice Schmiesing of Anna, Velma & Lester Dirksen of Portland, IN, Anita & Ron Wirrig of Houston, Mary & Dave Bergman of North Star and a brother-in-law, Robert Budde of Celina as well as numerous nieces and nephews. She was preceded in death by one nephew Nick Dirksen; one brother, John Frilling; brothers & sisters-in-law, Larry Schmiesing and Maryann Budde as well as several brothers & sisters-in-law from the Frey family.
Bernice was a 1961 graduate of Fort Loramie High School before going on to Frederick Beauty School of Cosmetology in Lima to become a licensed beautician. She had been owner and operator of Bernice's Beauty Shop all of her working career. She was also a beautician at Ohio Living Dorothy Love Retirement Community for many years. Bernice was a member of St. Michael Catholic Church, St. Ann's Ladies Sodality and a 50-year 4H advisor for the Cynthian Flying Needles.
Bernice was dedicated to her family and especially loved interacting with her grandchildren and great-grandchildren. She also enjoyed reading, solving crossword puzzles, crafting and playing cards with her "homemakers club" friends. Years ago, Bernice had been a frequent bowler.
Mass of Christian Burial will be celebrated 10:30 AM, Thursday, November 3, 2022, at St. Michael Catholic Church in Fort Loramie with Rev. Andrew Reckers presiding. Interment will follow at St. Michael Cemetery. Friends may call Wednesday 3:00 to 7:00 PM and Thursday 9:00 to 10:00 AM at Gehret Funeral Home in Fort Loramie. Memorials may be made to charities of choice. Private condolences may be expressed at www.gehretfuneralhome.com.
condolence
send private condolence