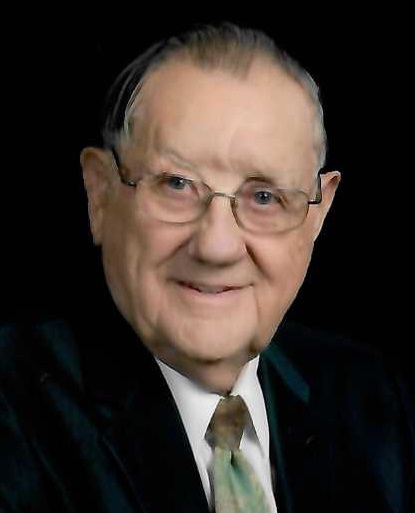 services
March 22

| Visitation
Wednesday 3:00 to 7:00 PM at Gehret Funeral Home
March 22

| Visitation
Thursday 9:00 to 10:00 AM at Gehret Funeral Home
March 23

| Memorial Service
Thursday 10:30 AM Mass of Christian Burial at St. Nicholas Church in Osgood
obituary
Arthur L. Lochtefeld
October 10, 1926 - March 16, 2023
Arthur Leo Lochtefeld,
Age 96, formerly of Yorkshire, passed away of natural causes Thursday afternoon, March 16, 2023, at Briarwood Village in Coldwater, Ohio, where he had been a resident for nearly 3 ½ years. He was born October 10, 1926, in St. Rose, Ohio, to the late Joseph & Rosa (Luttmer) Lochtefeld. On June 10, 1950, at St. Nicholas Catholic Church in Osgood, Art married Irene (Bruns) Lochtefeld who survives. Also Surviving are three children, Beverly & Randy Garrison of Versailles, Joseph & Rene Lochtefeld of New Bremen and Vernon Lochtefeld of Englewood; 11 grandchildren: Arlana & Scott Bruey, Kevin & Monica Garrison, Lee, Gabriel, Michael and Joelle Lochtefeld, Rachel & Mario Cartolano, Karlee & Adam Klawon, Michelle & Dane Baldwin, Jay & Katya Kleinhenz and Kenzie Kleinhenz along with 15 great-grandchildren: Jensen and Austen Bruey, Jack, Michael and Grace Osborne, Rowen Lochtefeld, Grayson and Arlo Hefflinger, Luca Cartolano, Max and Noah Klawon, Eliana, Hazel and Cooper Baldwin and Mila Kleinhenz; a sister-in-law, Marie Moorman of Coldwater as well as numerous nieces and nephews.
He was preceded in death by one daughter-in-law, Linda Lochtefeld; five siblings: Victor & Anna Lochtefeld, Irwin & Marie Lochtefeld, Hilda & Alfred Heitkamp, Roman & Bernadetta Lochtefeld, Clarence & Alvina Lochtefeld and several brothers & sisters-in-law.
Mr. Lochtefeld was a 1945 graduate of the former St. Johns High School in Maria Stein. He went on to study business and agriculture for one year at the Ohio State University in Columbus. Art served in the US Army during WWII and had been stationed in Germany. He was owner and operator of the former Yorkshire Super Market for 28 years before retiring. He was also a rural route mail carrier. He was a member of St. Nicholas Catholic Church, St. Nicholas Men's Sodality and a charter member of the Yorkshire Goat Farmers. He was also a life member and past commander of the Osgood American Legion Post #588, a life member of Maria Stein Knights of St. John and St. Denis Knights of Columbus. Art was an avid card player. He also enjoyed many years of farming and gardening.
Mass of Christian Burial will be celebrated 10:30 AM, Thursday, March 23, 2023, at St. Nicholas Church in Osgood with Rev. Stephen Jones presiding. Interment will follow at St. Martin Cemetery. Friends may call Wednesday 3:00 to 7:00 PM and Thursday 9:00 to 10:00 AM at Gehret Funeral Home in Fort Loramie. Memorials may be made to the Osgood Rescue Squad or the Osgood Fire Department. To share stories and digital memorabilia visit:
https://app.ezfiledrop.com/568498/arthur-l-lochtefeld
condolence
send private condolence