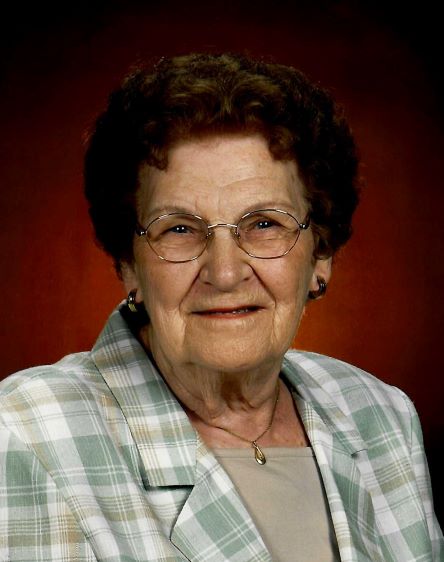 services
December 14

| Visitation
Private Family Visitation Monday 9:30 to 10:30 at Gehret Funeral Home
| Memorial Service
Private Funeral Service Monday 10:30 AM at Gehret Funeral Home
obituary
Alma J. Harp
September 23, 1923 - December 9, 2020
Alma J. (Seger) Harp,
Age 97, of W. Park Street, Ft. Loramie, Ohio, passed away of natural causes at her residence early Wednesday morning, December 9, 2020. She was born September 23, 1923, in Dawson, Ohio, to the late Frank & Marie (Zimmerman) Seger. Surviving are two daughters, Betty Ann Heinfeld of Angola, IN, and Vickie Bennett of Fort Loramie; four grandchildren: Thomas A. & Kelly Brandewie of Columbus, Lesley Shackelford of Columbus, Nikki Walker of Fort Loramie and Rhonda & Chad Hoehne of Black Hawk, CO, along with nine great-grandchildren: Jared, Madeline, Luke and Elowise Brandewie, Reilly and Cain Shackelford, Regan and Eliza Walker and Mason Trepanier; one sister Hilda & Charlie Grogean of Russia and brother-in-law, Pat Seger of Russia as well as numerous nieces and nephews. She was preceded in death by seven siblings: John Seger, Paul & Elaine Seger, Mary "Liz" & LeRoy Francis, Louise & Larry Wilhelm, Esther & Ralph Peltier, Ben Seger and Dorothy & Bob Weitzel.
Alma is retired from LeRoi Dresser in Sidney where she was the first woman promoted to become shop foreman of the lathe department. Many years ago, she helped manage the former Margaret's Inn in Fort Loramie. Alma was a member of St. Michael Catholic Church and St. Ann's Ladies Sodality. A dedicated Fort Loramie American Legion chicken fry volunteer, Alma was the keeper and guardian of the potato salad recipe. Years ago, she had been active in the Shelby County Senior Citizens. Alma enjoyed playing euchre and bingo.
A private funeral service concluding with interment at St. Michael Cemetery will be held at the convenience of the family. Memorials in Alma's memory may be made to State of The Heart Hospice. Private condolences may be expressed at www.gehretfuneralhome.com.
condolence
send private condolence