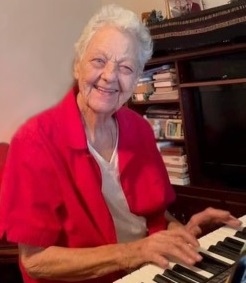 Services
April 17
|
Visitation
Monday 3:00 to 7:00 PM at Gehret Funeral Home
April 18
|
Visitation
Tuesday 9:00 to 10:00 AM at Gehret Funeral Home
April 18
|
Memorial Service
Tuesday 10:30 AM Mass of Christian Burial at St. Michael Church in Fort Loramie
Obituary

Joan M. Maurer

November 12, 1934 - April 12, 2023

Joan M. (Brandewie) Maurer,

Age 88, of Greenback Road, Fort Loramie, Ohio, passed away peacefully of natural causes at her residence Wednesday morning, April 12, 2023. She was born November 12, 1934, in Minster, Ohio, to the late Lawrence & Lietta (Bensman) Brandewie. On June 25, 1955, at St. Michael Catholic Church in Fort Loramie, Joan married Paul C. Maurer who survives. Also surviving are nine children: Jack & Debra (Imwalle) Maurer of New Bremen, Don & Patricia (Childers) Maurer of Findlay, Kathy & Dale Gaier of McCartyville, Rick & Jane (Doseck) Maurer of Botkins, Therese & Richard Borgerding of Piqua, Patty & Rick Luttmer of Fort Loramie, Becky & Jim Suhr of Springboro, Paul T. Maurer Jr. of Piqua and Laura & Tom Poeppelman of McCartyville; 23 grandchildren and 28 great-grandchildren; several brothers & sisters-in-law: Matt Zimmerman of Fort Loramie, John & Sandy Maurer of Fort Worth Dallas, TX, Mary Angela & Cory Siddall of Newport, KY and Tom & Kathy Maurer of Fort Loramie along with numerous nieces and nephews.

She was preceded in death by her step mother since infancy, Lucille Bornhorst Brandewie; five brothers: Joe & Ginny Brandewie, Les & Dorothy Brandewie, Moe & Arlene Brandewie, Walt & Jean Brandewie and Paul & Rosie Brandewie as well as sisters & brothers-in-law, Doris Jean Zimmerman and Jim & Madeline Maurer.

Joan was a 1952 graduate of Fort Loramie High School. She adored her family and was loved deeply by them as well. In addition to raising her family, she also worked at the Wooden Shoe Restaurant in Minster, the former Squire Restaurant at Sidney Holiday Inn and before marrying her husband, Paul, she worked at Rike's Department Store in downtown Dayton. She was a member of St. Michael Church and years ago, had taught CCD. She also belonged to St. Ann's Ladies Sodality, the Fort Loramie Historical Society and the Fort Loramie Legion Auxiliary. When her sons were young, she had also been a Cub Scout Den Mother.

Joan led life with humility and grace—always helping someone in need. Anyone who knew Joan knew she loved flowers and wildlife and created beautiful, whimsical gardens in her back yard for her grandkids and others to enjoy. She was also an avid stamp collector and a former member of the Sidney Stamp Club. Joan used the gifts God gave her to provide joy for others. She enjoyed playing the accordion and piano for nursing home residents and for the German Heritage festivals. In her younger years, she joined her father and siblings to perform in the Brandewie band during dances at the Walk-Up school house. She had a joyful smile that would light up a room. She will be greatly missed by all who were blessed to know her.

Mass of Christian Burial will be celebrated 10:30 AM, Tuesday, April 18, 2023, at St. Michael Church in Fort Loramie with Rev. Andrew Reckers presiding. Interment will follow at St. Michael Cemetery. Family and friends may call Monday 3:00 to 7:00 PM and Tuesday 9:00 to 10:00 AM at Gehret Funeral Home in Fort Loramie. Memorials may be made to the Fort Loramie Rescue Squad. Private condolences may be expressed at www.gehretfuneralhome.com.
---
Send Private Condolence

Condolence Send Now