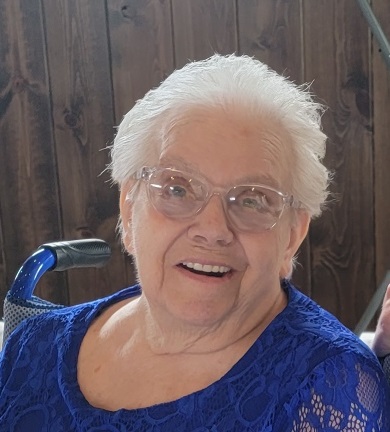 Services
January 23
|
Visitation
Monday 3:00 to 7:00 PM at Gehret Funeral Home
January 24
|
Visitation
Tuesday 9:00 to 9:30 AM at Gehret Funeral Home
January 24
|
Memorial Service
Tuesday 10:30 AM Mass of Christian Burial at Immaculate Conception Church in Botkins
Obituary

Delores T. Wilson

November 27, 1941 - January 18, 2023

"Dolly" Delores Thelma (Ott) Wilson,

Age 81, of Oakwood Drive, Fort Loramie, passed away of natural causes Wednesday morning, January 18, 2023, at the Versailles Rehab & Health Care Center in Versailles, Ohio. She was born November 27, 1941, in New Knoxville, Ohio, to the late Andrew & Louise (Schneider) Ott. On May 9, 1959, at Immaculate Conception Catholic Church in Botkins, Delores married John K. Wilson who preceded her in death on September 7, 2004. Surviving are three children: Andrew & Carol Wilson of Wapakoneta, Teresa & Paul Seger of Fort Loramie and Constance & Roger (dec.) Puckett of Jackson Center; four of five grandchildren: Sarah Wilson, Tyler & Heather Wilson, Gary Metz (dec.), Joseph Seger and Renee & Cory Simmermeyer along with five great-grandchildren: Vaughn, Soren, Aiden, Isabella and Carter Wilson; one sister, JoAnn Ludwig of Botkins and a sister-in-law, Judith Horwitz of Sidney. She was preceded in death by four siblings: Marie & Harold "Bud" Long, Martha & Charles Schweitzer, James & Delores Ott and Leo & Mary Ott as well as brothers & sisters-in-law: Elton Ludwig, Doris Larger, William Williamson and Gene Horwitz.

Delores was a 1959 graduate of New Knoxville High School. Dedicated to her family, she had primarily been a homemaker. Over the years, she also worked at The Crossing Tavern in Botkins and had been part owner of Brucken's Restaurant in Fort Loramie. She was a member of Immaculate Conception Catholic Church. Dolly was an avid reader. She also enjoyed playing cards and fishing.

Mass of Christian Burial will be celebrated 10:30 AM, Tuesday, January 24, 2023, at Immaculate Conception Church in Botkins with Rev. Michael Willig presiding. Interment will follow at Immaculate Conception Cemetery. Family and friends may call Monday 3:00 to 7:00 PM and Tuesday 9:00 to 9:30 AM at Gehret Funeral Home in Fort Loramie. Memorials may be made to Fort Loramie or Botkins Rescue and Fire Departments. Private condolences may be expressed at www.gehretfuneralhome.com.
---
Send Private Condolence

Condolence Send Now