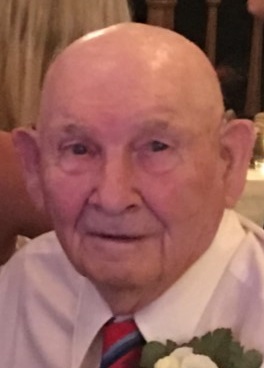 Services
August 12
|
Visitation
Friday 3:00 to 8:00 PM at Gehret Funeral Home
August 13
|
Visitation
Saturday 9:00 to 10:00 AM in the St. Louis Church gathering room
August 13
|
Memorial Service
Saturday 10:30 AM Mass of Christian Burial at St. Louis Church in North Star
Obituary

James L. Barga

December 7, 1931 - August 8, 2022

James Leo Barga,

Age 90, formerly of Medford Road, Rossburg, passed away of natural causes Monday evening, August 8, 2022, at Briarwood Village in Coldwater, Ohio. He was born December 7, 1931, in Rossburg, Ohio, to the late Leo & Matilda (Stammen) Barga. On September 5, 1955, at St. Nicholas Catholic Church in Osgood, Jim married Pauline (Brackman) Barga who preceded him in death on March 26, 2021. Surviving are five children: William Barga & Diana Morsey of Rossburg, Jerry & Diane Barga of Versailles, Janet Barga & Carl Kesic of Columbus, John & Barbara Barga of Salisbury, MD, and Diane & John Huelskamp of St. Henry along with twelve grandchildren and seven great-grandchildren; sisters & brothers-in-law: Barbara Brackman of Tipp City, Vernon Brackman of Cassela, Norma & Donald Purcell of Florida, Jane Brackman of Florida, Paul & Valerie Brackman of Florida and Janice & Delbert Dirksen of Frenchtown along with numerous nieces and nephews. He was preceded in death by two infant children, Joseph and Mary Barga; six siblings: Rosemary & Charles Nisonger, Madonna & Sylvester Homan, Eileen & Charles Barrett, Sr. Melitta Barga CPPS, Sr. Vivian Barga CPPS, Br. Bernard Barga CPPS as well as brothers & sisters-in-law, Eugene, Ruth and Donald Brackman.

Mr. Barga was a 1949 graduate of Ansonia High School and had been engaged in farming all of his working life. He was also a York Township Trustee for 21 years and a Darke County Commissioner for eight years. Jim was a member of St. Louis Catholic Church, St. Joseph Holy Name Society and the St. Gaspar del Bufalo, 4th degree Knights of Columbus in Minster. He was a past president of the Darke County Farm Bureau and the Darke County Trustee's Association. He also belonged to the Greenville and Versailles Fraternal Order Eagles lodges as well as the Darke County Elks. In his leisure Jim enjoyed traveling, visiting with his family and caring for his "fruit tree farm".

Mass of Christian Burial will be celebrated 10:30 AM, Saturday, August 13, 2022, at St. Louis Church in North Star with Rev. Stephen Jones presiding. Interment will follow at St. Louis Cemetery. Friends may call Friday 3:00 to 8:00 PM at Gehret Funeral Home in Fort Loramie and Saturday 9:00 to 10:00 AM in the St. Louis Church gathering room. Memorials may be made to Darke County Right to Life or charities of choice. Private condolences may be expressed at www.gehretfuneralhome.com.
---
Send Private Condolence

Condolence Send Now