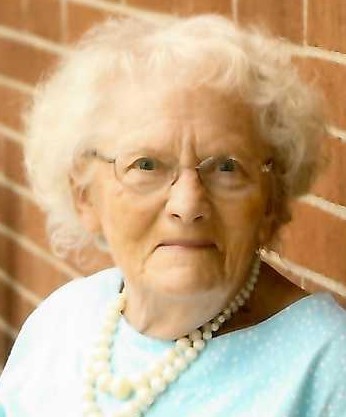 Services
January 2
|
Visitation
Sunday 3:00 to 7:00 PM at Gehret Funeral Home
January 3
|
Visitation
Monday 9:00 to 10:00 AM at Gehret Funeral Home
January 3
|
Memorial Service
Monday 10:30 AM Mass of Christian Burial at St. Michael Church in Fort Loramie
Obituary

Mary Ann Quinter

June 23, 1926 - December 25, 2021

Mary Ann "Myrt" (Mescher) Quinter,

Age 95, of Greenback Road, Fort Loramie, passed away of natural causes Saturday evening, December 25, 2021, at Joint Township District Memorial Hospital in St. Marys, Ohio. She was born June 23, 1926, in Coldwater, Ohio, to the late Lawrence & Anna (Henke) Mescher. On June 26, 1948, at St. John The Baptist Catholic Church in Maria Stein, Mary Ann married Anthony Quinter who preceded her in death on October 15, 2009. Surviving are four children: Mark & Gloria Quinter of Houston, Virginia Egbert of Kettlersville, Barbara Reiss of South Lebanon and Mary Scott of Anna; 16 grandchildren, 48 great-grandchildren and 6 great-great-grandchildren; sisters & brothers-in-law, Velma Mescher of Coldwater, Pauline Kohler of Botkins and Maurice Quinter of Fort Loramie along with numerous nieces and nephews. She was preceded in death by two sons-in-law, Eugene Egbert and Gary Scott; two great-grandsons, Gavin Quinter and Marcus Luthman; five siblings; Dorothy & Walter Imwalle, Robert "Bud" Mescher, Delores Schwieterman, Ruth & Larry Bender, Irene & Edward Garman and brothers-in-law, Harold Quinter and Roger Schwieterman as well as several brothers & sisters-in-law from the Quinter family.

Mary Ann was a 1945 Graduate of the former St. John's High School in Maria Stein. A devoted homemaker and farmwife, Mary Ann had also been a member of St. Michael Catholic Church and the Fort Loramie American Legion Auxiliary. Myrt enjoyed knitting and crocheting. She wrote at least four songs and 20 poems. She will also be remembered for her witty, good-natured jokes and welcoming demeanor.

Mass of Christian Burial will be celebrated 10:30 AM, Monday, January 3, 2022, at St. Michael Church in Fort Loramie with Rev. Steven Shoup presiding. Interment will follow at St. Michael Cemetery. Friends may call Sunday 3:00 to 7:00 PM and Monday 9:00 to 10:00 AM at Gehret Funeral Home in Fort Loramie. Memorials may be made to St. Michael Church, The Padre Pio Foundation of America or charities of choice. Private condolences may be expressed at www.gehretfuneralhome.com.
---
Send Private Condolence

Condolence Send Now